The secret to succeeding in sushi making. Authentic sushi/japanese rice. Boom.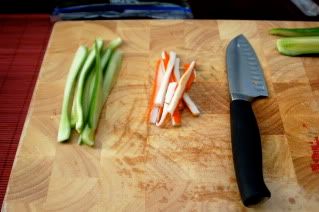 Nothing fancy. Just a simple crab, cucumber, wasabi, and mayonnaise roll.
Commercial wasabi consists mostly of horseradish, with an extremely small percentage of real wasabi in it. Sometimes, it's just plain horseradish. Crazy huh? I prefer making my own paste from this. Rather that buying a pre-made paste. Hmmmm.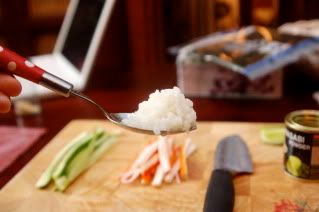 Do you know that I've NEVER cooked rice? Im not a rice person, and i barely eat rice. (i know, i know) When i do eat rice, its either in Sushi, or as fried Japanese/Chinese rice in a restaurant. But today i gave it a shot. I merely followed the instructions on the back of the box and voila, sushi rice! (I deserve a prize for this :))
Assembling it all. (Oh, i sprinkled some sesame seeds on the rice, they do that sometimes.)
Hm hm hmmmmmmm. The best sushi I've ever tried was in this old, antique furnished, and classic restaurant in Sheikh Zayed Road. I cant remember the name of it. But it was pretty yummy. Sometimes, the worst, most unhygienic, and oldest restaurants make the best foods EVER. Why? I have no idea. Maybe its due to the sweat that drips into the food occasionally :p
No rolling pictures due to the fact that: -the lighting, frames, and shots were very bad. -i look like a fool doing it. -the rolling was VERY badly done. (it just doesnt show here :p) Naughty? I know. ;p
Now, is it me, or is this picture flaunting a sushi roll that's about to explode due to the excessive amount of rice stuffed into it. Nope, its me.
What i need to improve & master:
-The rice was cooked well, but it was alittle hard.
-The rolling was REALLY dysfunctional and distorted.
-the fact that i want to achieve an Inside out roll next time. (gulp)
NOW, In terms of taste, *drum roll*, the sushi tasted quite like..Sushi! I served it with Japanese soy sauce (stronger taste) and it really tasted like the sushi i normally eat! Excuse the way they appear, but their insides were quite delicious. *never judge a book by its cover?* Haha